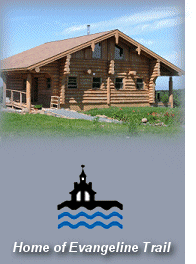 Welcome

Newly constructed log cabins located in the beautiful village of Harbourville. Fully furnished will all the convenience of home. Just bring yourself and the family, the rest is already here.

We are located in Harbourville, Nova Scotia. We have spacious and comfortable log homes with a view over-looking the Bay of Fundy with nature in all it's splendor.

Nova Scotia, located in eastern Canada, is a place for nature lovers. Nova Scotia has wonderful scenery and a very pleasant climate. From Yarmouth to Windsor the tides of the Bay of Fundy rise until they reach 55 feet. Harbourville lies on the fundy coast as a delightful fishing village next to orchards of the Annapolis Valley. The power of nature is evident with its world famous Tides and ever changing landscape of rocky shores, fertile farmlands, salt marshes and broad beaches.